Cotton Candy Oolong Tea
Cotton Candy Oolong (12 Sachets | 24 Cups)
LUXURY HEALTHY SPECIALTY TEA
An extremely healthy tea, blended with Ti Kwan Yin Oolong with several ingredients. Each ingredient adds to the teas health benefits while giving a very pleasant cotton candy flavor. Very tasteful and unique, with an all natural flavor.
INGREDIENTS:
Partially oxidized Ti Kwan Yin Oolong Tea with 100% All-Natural Raspberry Flavor, Apple bits, Cranberry bits, and Hibiscus
Caffeine Level: Caffeine Medium
100% All-Natural
ORIGIN:
SACHETS QUALITY:
Pyramid Style
100% All-Natural
No Plastic
Plant Base
Long-Term Biodegradable
No Glue
No Ink
No Bleach
CERTIFICATION AND TEA NATURALITY:
Certified Exporters
Certified Gardens
Certified Kosher
Certified Gluten-Free
100% All-Natural
No MSG
No Preservatives
No Artificial Flavors
DIRECTIONS:
Bring water to full boil
Steep for 1-3 minutes
Serve hot or cold
CONTENTS:
12 Luxury Premium Tea Sachets (Triangle Tea Bags)
Brews 24 cups
Expiration 24 months
Net Wt. .85oz (24g)
Each luxury sachet can brew two 10oz cups of tea.
Hand blended and packed in the United States, Pipersville, PA.
Customer Reviews
100
reviewers would recommend this product
Write a Review
11/19/2022
Kayla H.

United States
I recommend this product
Favorite!
This tea LEGIT tastes like cotton candy. It is now a staple and favorite in my house. He got me at the fair and now I am hooked for life. This one, the chai and the peach are my go tos for a relaxing night. Add a little canna honey and you have an amazing medicinal cup of tea that never disappoints. Thank you so much for talking me into buying all the teas. Repeat customer for sure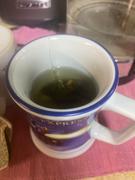 Hello, Thank you for your feedback. We are so glad to hear that you love our tea.
08/19/2020
Verified

United States
I recommend this product
Unique and good
I like how this tea tastes! It is very good with great quality!
07/03/2020
Verified

Germany
I recommend this product
I think it is perfect
I really do find this flavor to be really good. I think it is just overall perfect and with just a little bit of sugar added, not much. You will find this to be one of your favorites.